Historic Post Offices
Akron (Iowa)
Adelscat (1869-1873, see then Boreman)
Alcester (1883-present)
Alsen (1874-1906)
Beresford (1883-present)
Big Springs
Big Sioux (1865-1873, see then McCook Lake)
Blaine (1898-1899)
Blair (1871-1874)
Boreman (1873, see then Jefferson)
Brighton (1878-1883)
Brule Creek (1862-1864, see then Richland)
Brule Creek, Location 2 (1886-1891)
Dakota County (Nebraska)
Dixon County (Nebraska)
Elk Point (1860-present)
Emmett (1877-1893, 1894-1900)
Garland (1889-1902)
Gothland (1873-1891)
Grant (1866-1869)
Grove Hill (1876-1886)
Jefferson (1873-present)
Nora (1891-1906)
Lamont (1895-1901)
Lennox (1879, see then Blair)
LeRoy (1869-1873)
McCook (1873-1887, 1893-1911)
North Sioux City (1952-present)
Paris (see Beresford)
Richland (1864-1905)
Sioux Valley (1867-1889)
Spink (1872-1914)
Stevens (1923-1952, see then North Sioux City)
Sunnyside (1876-1883)
Texas (1870-1875)
Virgina (1869-1881)
Willow (1861-1869, see then Adelscat)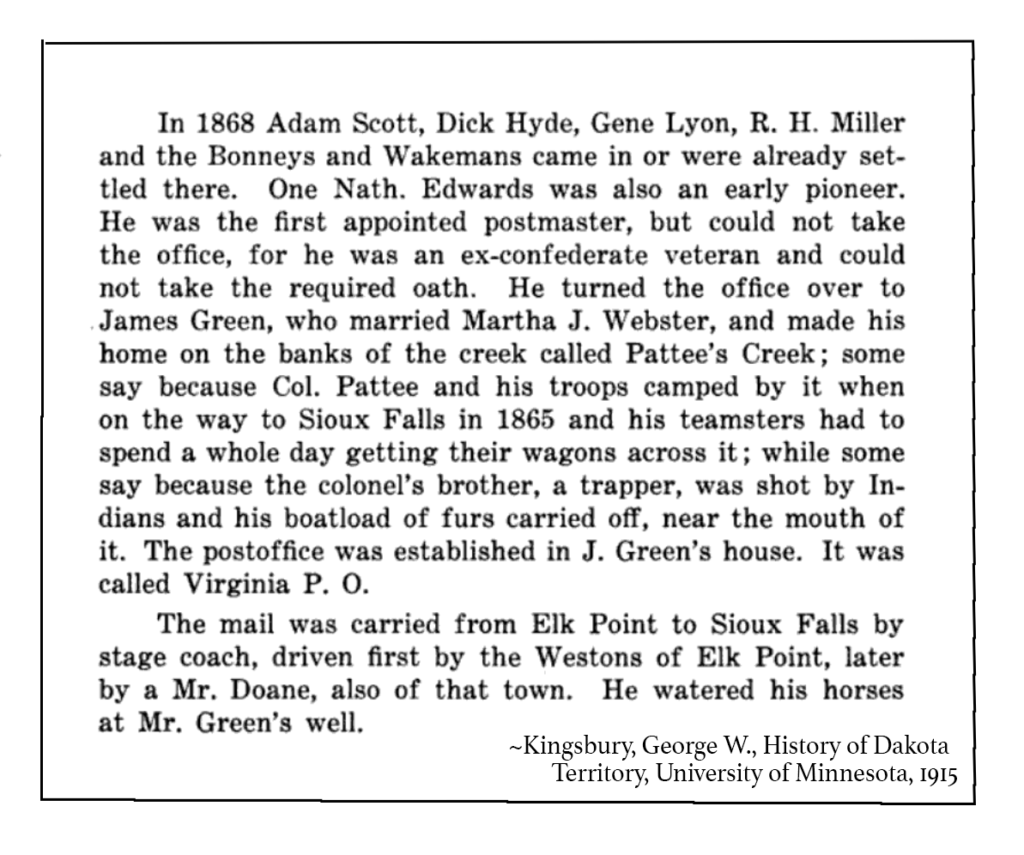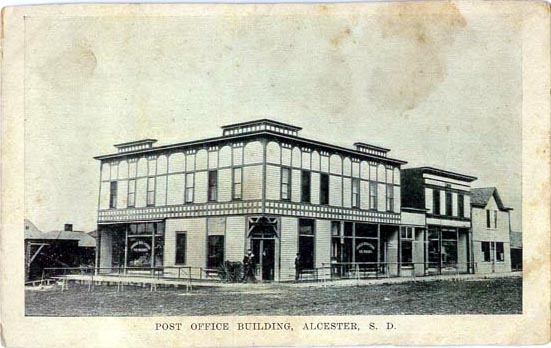 Primary United States Post Offices were established in Elk Point, Jefferson, Alcester, and Beresford and a citizen was selected in each to fulfill the duties of post master. Small communities established small post offices that could expect delivery to local postmasters on a less frequent basis (once or twice a week). Farmers travelled to their assigned post office to retrieve their mail.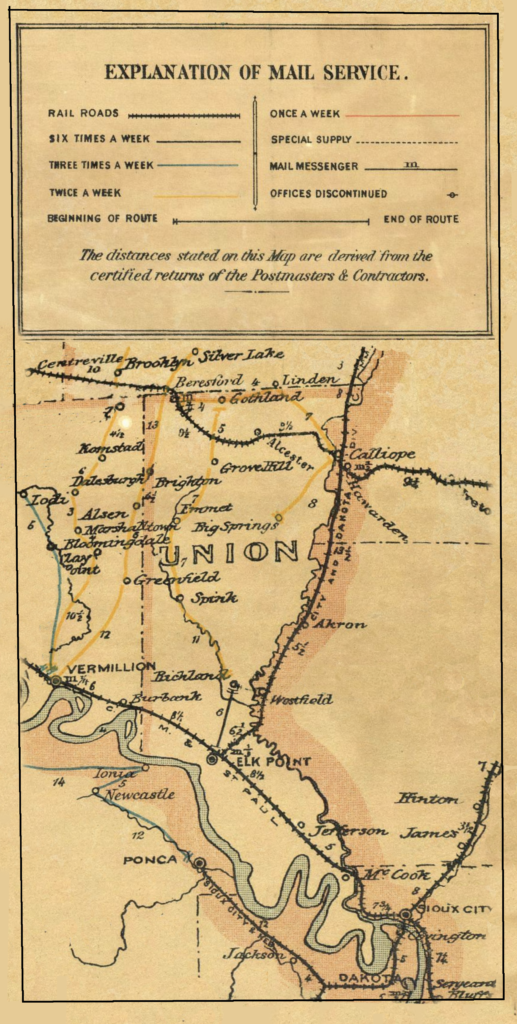 Beresford holds the honor of being the third post office in South Dakota to establish, on May 1, 1900, a free rural delivery system. Elk Point (on August 1, 1902) and Jefferson (on October 15, 1903) joined a wave of nearly 100 towns in the state that established this service between 1899 and 1904. Iconic rural post boxes began to pop up throughout the countryside and many small post offices were discontinued as more and more postal patrons elected to receive free mail delivery.
Learn more…
Pruitt, Sarah, How the US Post Office Has Delivered Mail Through the Decades, History.com, Sep 8, 2020)
Mail by Rail (Smithsonian National Postal Museum Online Exhibit)
Nicholson, W.L., Post route map of the territory of Dakota with adjacent parts of Montana, Wyoming, Nebraska, Iowa and Minnesota, and portions of the Dominion of Canada. United States Post Office, Washington, DC, 1879. (Library of Congress, Geography and Map Division)
Postmaster Finder (United States Postal Service DB)
NOTE: Search by city, county, state, name to explore. This is an active database and may not complete information. If you have information on our area, you can contact the USPS Historian and help to expand the database.
Office of the Inspector General, Rural and Urban Origins of the US Postal Service, US Postal Service, Aug 26, 2019
Sources of Historical Information on Post Offices, Postal Employees, Mail Routes, and Mail Contractors, Publication 119, US Postal Service, Oct 2011
Steamboat Postal History of Dakota Territory (Ken Stach, Western Cover Society)
Winter Rural Mail Delivery in Dakota (Duane Stabler, Post Card History, Jun 25, 2020)